Testimonials
When choosing a real estate professional, get to know their history!
Below, you'll find information that will help you get to know me better - from awards and credentials I've achieved, to references from past clients.
I consider the satisfaction of my clients to be my greatest achievement, and take pride in my high volume of repeat business and referrals.
Call me today - I'd love to add you to this growing list!
Efrat, Chris and Emma
Helen was recommended to us by a friend as being an approachable, efficient and great realtor to work with, and she was definitely all that and more! We are so happy that we decided to go with her to sell our condo. She was always available, generous and flexible with her time, and worked very hard and with incredible patience and stamina through all the (sometimes difficult) steps of the negotiations, at all times of the day and night. She explained everything to us very clearly, and we feel we had very good communication with her. Helen was not high-pressure, was very respectful of us, and was always pleasant to meet and talk with. Thank you Helen!
Helen是经由朋友介绍,说她是个亲民、有效率、又棒的经纪,我们跟她合作后,发现她比朋友说的还要好。将房子交付给她卖,是最开心的决定。她总是能随侍在侧、勤奋工作、并极具耐心与精力在谈判协商。她清楚地解释来龙去脉,让我们感受到与她沟通无障碍。Helen不强行推销,相当尊重我们意見,而且总是愉悦的与我们见面。谢谢妳,Helen!
Maureen and George Godfrey
Helen Gao is an exceptional realtor. She is extraordinarily efficient, professional, knowledgable, and effective. Helen has a team to help you present your house in the best possible way and does so with minimum disruption to you and your family. Our house sold quickly at a price which thrilled us! We could not have been more satisfied with the entire process. Helen is unreservedly the best realtor we have ever had and I highly recommend her as a realtor.
Helen Gao 是个出类拔萃的经纪,她做事相当有效率、专业、博学、及充满精力。Helen有个紧密合作的团队,能以最不麻烦卖家的方式,让您的物业以最好的方式呈现给买家,我们的房子很快的就以令人兴奋无比的高价售出,这整个过程都让我们满意到极点。毫无疑问的,Helen是我们合作过最棒的经纪,强烈推荐给您。
Rex & Joanne McLennan
We recently engaged Helen Gao to list our west side Point Grey property. Through Helen's superb marketing efforts we were swiftly receiving serious interest from well matched potential buyers. A short time after, we connected with the ideal buyer and our property sold with terms that met all of our objectives. Her market knowledge, professional, pragmatic approach and attention to detail - both in marketing strategy and dealing with clients - is most impressive and produced a great outcome. We were so impressed with Helen that we engaged her to sell another of our properties - a Yaletown False Creek waterfront condo - which she accurately assessed for value and sold within our expected timeline and price expectations. We then engaged Helen's assistance to purchase another west side condominium. She carefully selected a short list of properties that perfectly met our objectives; offered thoughtful advice on value and pricing strategy which led to a well priced transaction. Having recently worked with Helen on three separate transactions we feel very confident in recommending Helen Gao - she is a joy to work with !
近日我和我太太委托Helen Gao来挂牌出售我位于温哥华西区Point Grey的物业,透过她超群的行销能力, 在很短的时间内,许多有诚意且条件符合的潜在买家表示了购买意愿,随即以符合我们的目标售价卖出。Helen 洞悉市场动向,专业高效能的做事态度,以及精品客制化的行销策略及沟通技巧都让我们留下深刻的印象 ,也达到最好的成果。
有鉴于上次美好的合作经验,我们再度委托Helen挂牌出售另一个位于Yaletown 福溪海景公寓,同样的,她精准的开价,再度以最短的时间为我们赢得超乎预期的卖价。之后我们再委任Helen协助购买西区的公寓,她仔细依照我们的需求,筛选适合的物业,提供独特的见解和专业参考意见,采取有效的出价策略,帮我们买到物超所值的理想物业。
接連三次和Helen買賣的經驗,無論出售或購買物業,我們非常有信心的推薦Helen Gao,和她合作太愉快了

!
Kira Lynn
Having bought and sold five properties over the years, I have had a fair amount of experience working with realtors. This year I hired Helen Gao to sell my father's house, and was extremely impressed by her services. She is the epitome of professionalism and efficiency. Helen is incredibly knowledgeable, personable and motivated. The house sold in less than a week for considerably more than we were asking. I could not be happier with Helen's work. I will definitely be hiring her the next time I move, and would recommend her to anyone looking for an outstanding realtor.
这些年来,我历经过五次的房屋买卖,也积累了一定程度与不同经纪合作的经验。就在今年我委托Helen来协助出售我父亲的物业,她提供的服务令我相当满意。她是专业与效率的化身,Helen 见识相当广、个性又好、做事又积极。我父亲的房子在上市不到一星期,以超乎我们叫价很多的价格成交。Helen辛勤努力的结果令我欣喜若狂,无庸置疑地,下次我搬家时一定会再度委托她,也乐于推荐她给任何需要杰出经纪的人。
Sandra and Bruce Bird
If you a looking for the complete package of professionalism, personalized attention, and an agent who is great to work with in every way, Helen Gao is the agent for you.
Helen's dedication to her clients and experience in finance and real estate made us feel confident in our decisions - both buying and selling our home. Her expertise in the real estate market, her attention to detail and her desire to offer assistance in all aspects of purchasing and selling a home sets her apart.
Thank you Helen for being such a positive part of our big decisions – and for working so quickly to get our home sold so fast.
若您正在寻找专业化、个人精品化、以及合作起来相当愉悦的全套地产经纪服务,Helen Gao绝对是一个不二人选。
Helen对客人的努力不懈和她在房产及财务上的经验,让我和我太太在买卖房子做决定上充满了信心。她在房地产市场的专业、她专注细节,以及她致力于提供买卖房子的协助,这些造就了她的与众不同。
感谢Helen在我们人生重大决定中扮演了一个极为正面的角色,同时感谢她在最短的时间将我们的房子售出。
Lillian Ho and Bertran Chan
Dear Helen,
We meant every words we wrote. You are professional and calm, always so nice to us. You take time to explain things to us. We even got a welcome gift! Hope you can help us again for our next house buying!! Thanks!
Campbell Froh May & Rice LLP, Katherine E. Ducey, Partner
I have had the pleasure of working with Helen on the sale of my mother's townhouse on the west side of Vancouver. I was very pleased and impressed with Helen's professionalism, knowledge and integrity throughout the process. While her advice and guidance throughout the process was invaluable, she did not force her views on me and allowed me to make decisions based on our family situation without any pressure from her. I deal with a number of realtors in my profession as a lawyer and I would not hesitate to say that she is one of the best I have come across. If you are buying or selling in Vancouver, I would not hesitate to recommend Helen.
在出售母亲位于温西的房屋时,我和Helen有很愉快的合作经历。Helen的专业,丰富知识及贯彻始终的职业操守令我印象深刻。在售房的全过程她给出的建议及指引极具价值。她做到了不令人对她的建议产生压力,相反她尊重我在基于自身情况下做出的决定。作为律师,我曾经和不少地产经纪,相比之下,她是我接触过最好的房产经纪。如果你决定在温哥华买卖房地产,我绝对毫不犹豫向您推荐Helen.
Nicholas and Shona
Extremely pleased with Helen's performance.
Given the current housing market and the time of year at which we were selling, it was nothing short of phenomenal that you were able to sell our condo in just over 2 weeks and close in under a month! Your knowledge of the area and your modern approach to marketing were just two of the reasons we chose to list with you. A huge thank you to you for your effort and dedication.
我们极为满意Helen的出色表现。
基于目前低迷的地产市场和并不有利的卖房时间点,能在短短两个星期内卖出并在一个月内交割实在算是一个奇迹。Helen对本地巿场的了解及对市场营销的新颖做法是我们决定让Helen成为我们代理的主要原因。衷心感谢Helen的尽心尽力的努力和付出。
B & L Chan, Richmond BC
There are bad, average, good, and exceptional good realtors. I've come across and worked with all of the above. Helen is certainly the latter - an exceptionally good realtor that I've the fortune in working with, twice within a year.
We were impressed by Helen's meticulous details, her vast knowledge of buildings, communities, and the market trends; and her integrity and professionalism. We work with a realtor not because we want someone to do the transaction and paperwork, but as our representative, our advisor, and consultant. Helen clearly excels in all of these roles. In the process, we have gained a true friend.
Thank you Helen, you didn't just find us a house, you helped us to find our home!
我接触过形形色色的地产经纪,有不称职的,有一般般的,有服务好的,也有超一流的,而 Helen无疑是最后一种 -- 我有幸在一年之内两度选用的一位杰出的地产经纪。她对于细节的考究,对于建筑的深入认识,对于周边社区和市场动态的了解,以及她的专业操守,都给我们留下了深刻的印象。我们不仅仅需要一位经纪起草文书完成交易,而更多的是可以为我们提供专业咨询,给予建议,并代表我们跟对方协商,Helen 在这些方面的表现都超出了我们的预期,我们同时亦收获了真挚的友谊。多谢 Helen,你帮我们找到的不仅仅是房子,而是找到了一个家!衷心感谢!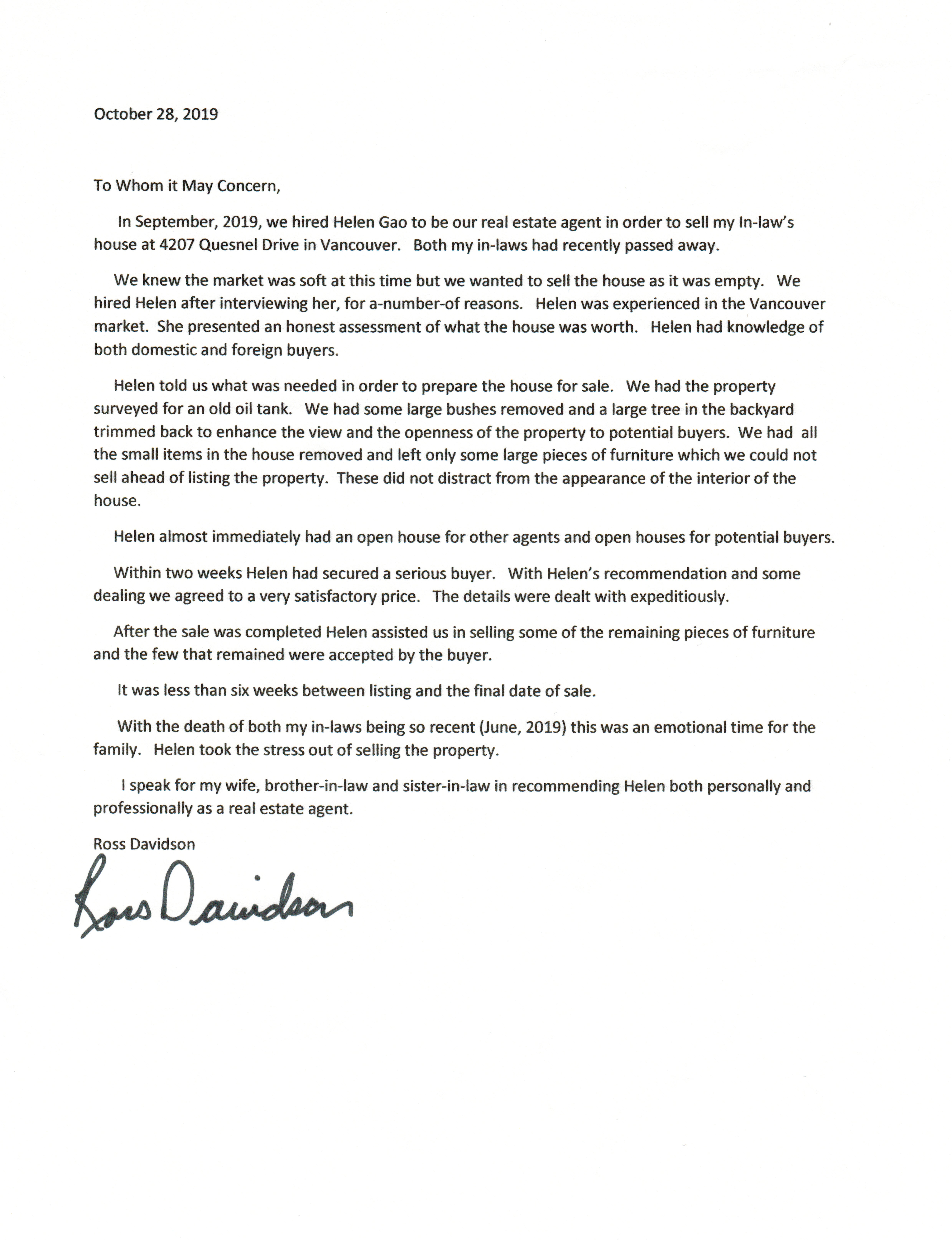 Ross Davison and Brian Cooper
Harry Chu
This very satisfied home owner cannot thank Helen enough for her help through both the buying and selling process. Helen's knowledge of the industry coupled with her passion for helping clients made for a painless home transition. Helen sticks to the process and her clear communication style helped quell many of the anxieties and worries that arose during the buying process. Not only did I end up with a home, I gained a lot of valuable experience watching an experienced agent at work.
If you're looking for an agent who will work in your best interests in helping you achieve your home transition goals, Helen is the one for the job.
Again, a massive thank you Helen!
这位屋主非常满意 Helen 帮助他完成买卖两笔交易,并表示感激不尽:
Helen 对于地产行业有着资深认识,并热心帮助客户,令到整个房屋交收过程相当顺畅,Helen 坚守正确的流程及清晰的沟通方式,缓解了我在购买过程中出现的许多焦虑和担忧,我最终不仅仅购得新居,更从一位经验丰富的地产经纪身上学到了宝贵的知识。
如阁下希望找到一位地产经纪可以保障你的最佳利益,帮你顺利达至房屋买卖交收的目标,Helen 是你的不二人选。
再次向 Helen 致以万分谢意!
Jenny, Annie and Peter Tsai
Dear Prospective Home Buyers and Sellers,

Thank you for reading this! Buying or selling a home can be incredibly stressful and challenging. Then, having to search and choose from hundreds of realtors is even more overwhelming. For approximately six months, frustrations and anxiety kept piling up because my parents weren't able to sell their properties as they weren't getting enough viewings or serious buyers when it was first listed. Feeling hopeless and tremendously worried, we went on google search for a new realtor. Miraculously we found the perfect realtor agent from Remax Select Properties in Vancouver. If you are looking for a fantastic, approachable and top-notch realtor, then Helen Gao is the person to contact.

Helen is an outstanding, superb and supportive realtor. She is truly one of a kind; an absolutely phenomenal agent, advisor and consultant. We would like to take this opportunity to express our sincere thanks and deep gratitude to Helen for her
unwavering dedication and hardwork on our behalf throughout the process of selling my parents' house and condo properties in Vancouver over the past several months. Many thanks also to Helen's wonderful team at Remax Select Properties and her ancillary service partners. We were so fortunate to have found Helen when we needed a proficient and efficient realtor who had our best interest at heart, especially in the current challenging market which was significantly impacted by Covid 19 pandemic.
After a phone call with Helen, she scheduled an initial meeting with my parents. The first meeting allowed us to get to know her and vice-versa. She is highly experienced and professional realtor who exudes confidence and competence in her area of expertise. She was extremely patient, respectful, kind and took the time to explain the home selling process, answered all our questions and concerns. She was well-prepared and took note of our expectations as well. Her extensive network, knowledge of the Vancouver real estate market and familiarity of the local areas and its communities are an asset.

We were thoroughly impressed with her service. She provided us with tons information on the current market dynamics and trends, and gave us precise assessment and analysis of our properties. Most importantly, she provided realistic and sound advice on sale pricing, timing and presentation which ensured that the properties can be sold at a timely manner. Her unparalleled negotiation skills and strong marketing strategies are reassuring and appreciated. All the properties were sold within a week's time after initial showings.

As our Realtor, Helen went above and beyond our expectations both in terms of assistance and professionalism. She made every step of the home selling process seamless and stress-free. In addition, she was hands on and took extra steps in preparing our home for sale making sure its presentable, brought in a professional photographer, and recommended excellent staging professionals. Her meticulous attention to details in all aspects is one of her great attributes. We were also blown away by the quality of the photographs taken for the online listings and pamphlets.

It was such a great joy and pleasure to work with Helen. She is personable, ethical, extremely responsive and communicates effectively with her clients and other parties. She navigated us throughout the whole selling process with ease, kept us informed regularly and provided honest and invaluable feedback, insights and advice without overpowering. She worked with us through all the challenges in selling our homes, gave us support and help from the very beginning to the end of closing process; and even followed up with us after.

It was a memorable journey for all of us. We felt Helen wasn't just a realtor to us, she was like a friend and family throughout the entire journey; and now it is with great honour to call her our dear friend. She is amazing, passionate about her work and hands down the best in our opinion. In just a short period of time, feelings of despair and extreme anxiety have quickly dissipated from our lives. Helen brought back hope, smile, laughter and liberated my parents from financial stress and fatigue. Now we can all finally relax and my parents can retired peacefully.

It is with our immense pleasure to highly recommend Helen Gao as a realtor agent for any individual or family searching to sell their property or buy their ideal home. She is an epitome of a great and trustworthy realtor! If we ever need a realtor again, Helen will be the first and only choice. She made such a difference in our lives in a positive way.

Thanks again for everything from the bottom of our hearts Helen!
All the best to all the prospective buyers and sellers! We hope regardless of whether you are selling or buying a home, it can be a joyous and stress-free experience to you as well. May Helen be your choice of realtor that will lead you in finding your unique and ideal home.
Jenny, Annie and Peter Tsai